Yokohama Mariners
Nickname
Kanji
Romanji
Captain
Manager
Motoki
Last Season Finish
10th[1]
Yokohama Mariners are one of the rivals clubs of East Tokyo United. They were 10th in league standings in the prior season.
Yokohama was in the same qualifying group as ETU for the Japan Cup. As a result, they have faced ETU a total of three time so far in the season: twice for Japan Cup group games and once for a League match. Yokohama has lost all three times. Indeed, Yokohama is yet to score a goal against ETU.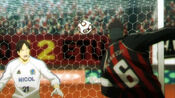 During their first match against ETU, which was a league match, Yokohama did manage to isolate Gino and keep the match score less for much of the game. The deadlock was finally broken when Kiyokawa deflected a ball off a Yokohama defender and secured a corner. Gino took the corner and dropped a long ball behind all Yokohama defenders that Murakoshi smashed into the goal, securing the 0-1 win over Yokohama.[2]
The match was otherwise notable for the still unfit Natsuki being on the bench for the sole reason of keeping the Yokohama coach on his toes. According to Tatsumi, Motoki is a coach who pays attention to minute details and as Natsuki has scored against Yokohama in the prior season, making it seem that Natsuki was going to be substituted would give Motoki as sense of danger. The strategy was successful and Motoki was pre-occupied with when Natsuki would be substituted in. However, Tatsumi had no intention of substituting Natsuki as, despite Natsuki's assertions to the contrary, Tatsumi knew that Natsuki's body wasn't ready.[2]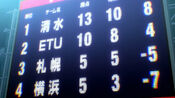 ETU completely trashed Yokohama when they met for the second time, for the first of two Japan Cup Group C match between the teams, winning 3-0.[3] Yokohama did not fair any better for their last Japan Cup Group C match, also played against ETU, losing 0-1 thanks to Gino scoring from a goal wall penalty set piece. As a result, Yokohama ended their Japan Cup campaign at the bottom of their group table.[4]
The fact that Yokohama is having a bad season is reflected in their League table standing, as the team currently sits in 17th place with 13 points and is thus in danger of relegation.[5] It is a far cry from their performance last season, when they finished in 10th place.[6]
References
Edit
Community content is available under
CC-BY-SA
unless otherwise noted.